What is EPM and its evolution
Before the dawn of Enterprise Performance Management EPM we had the dawn of BI which stands for Business intelligence.
The Enterprise Resource Planning revolution fulfilled the need of companies to run their operation on a single platform or technology.
Suddenly companies could integrate their business process from Manufacturing to Accounts Receivable. The Major Player of the ERP revolution was SAP.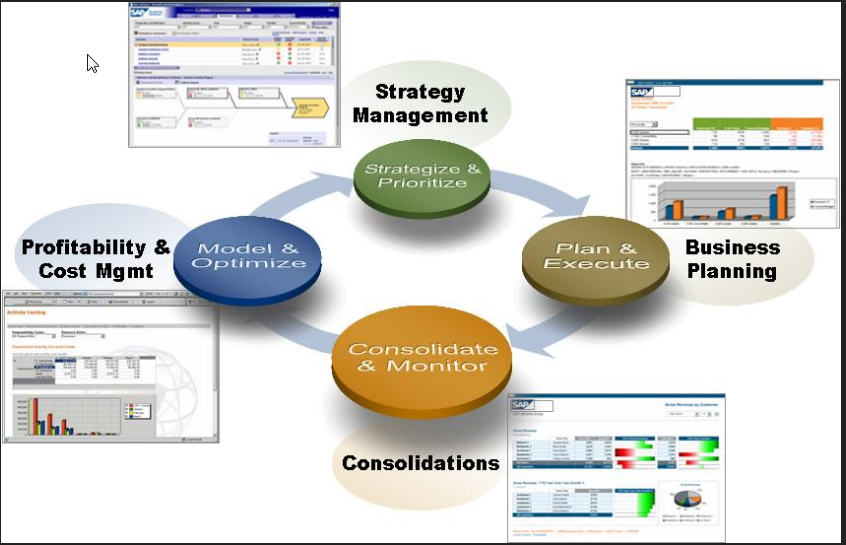 There emerged from the ERP revolution, a need to sift through all those data from various functional operations to create information. This created the Business intelligence revolution and SAP launched the SAP BW data warehouse which had hooks laid into the SAP ERP system for easy extractions of data.
The Business Intelligence software in general talk about the past or the focus on Actuals. It was very clear there is a need for forward looking tool that could cater to planning and budgeting in organizations. Majority of the Planning process was done on spreadsheets on peoples desktops and it was not easy collect and collate them.
Business Planning and consolidation (BPC)
Business Planning consolidation BPC software from SAP is one of the most sophisticated tools in the market and helps company in 2 core areas.
• Planning Budgeting Forecasting
• Consolidation of financials
Detailed
One of the big advantages of BPC is that it offers a single platform to do Business Planning and consolidation.
In the SEM environment we had BPS and BCS for performing Planning and consolidation and they were done in 2 different toolsets.
Planning
We can do real time planning and budgeting with BPC. There is plenty of features to provide capabilities to do
• Top down planning
• Bottom up planning
• Allocation and Distribution
• Trending
• Process flows
• Drill through reports



BPC allows very tight integration with various cycles of Forecasting, Annual plan, and Strategic plan. One can provide the starting point for the other. BPC provides excellent version management capabilities and also has reach features for audit.

Since BPC NW sits on top of BW, there is a very tight integration of data flows for Actuals coming from ECC. We also have the capability of scaling the solution.